Getting our Ducks in a Row at Chicago area schools.
Feb 10, 2013
by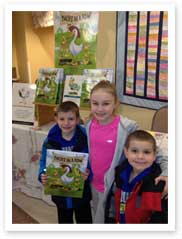 Elaine Harrison and the MacQuacken Family had a very ducky time as they flew all around Chicagoland celebrating Catholic Schools Week!
With dynamic and colorful book images projected onto the big screen, Elaine offered a lively and dramatic recitation of Ducks in a Row at the schools. She further delighted students by showing them the illustration process-from initial sketches to finished works,...