Author Visits

Well known for her innovative presentations, Elaine has been enthusiastically received by elementary schools throughout Chicagoland.
During an author visit, Elaine gives three age-appropriate presentations to include all grades, Pre-K through 8. While performing the stories by heart, her dynamic adventures are projected on the big screen. After-story presentations include thoughtful discussions of story themes and lively, fun-filled curriculum activities spanning all subjects.
"Author visits have a profound and lasting impact. The opportunity to meet and converse with an author plays a crucial part in the promotion of reading and creative writing. Students become engaged in this hands-on experience, which enhances their love of books and broadens their knowledge of literature ... Author visits have shown a dramatic increase in library use and reading diversity. These events build confidence, particularly in reluctant readers and in students with special educational needs."
- Society of Authors, 2013 Survey Author Visits in Primary and Secondary Schools

Elaine uses fun visuals to teach math, history, science, writing and more!

Your school receives:
Three big-screen presentations
After-story curriculum activities
School-wide writing challenge
Custom coloring page
Two autographed books for school library
Parent meet-and-greet (upon request)
Presentation Based on Ducks in a Row


Provide character education with Ducks in a Row/Patitos en fila.
The MacQuackens are a family of free-spirited ducks, who live life to the fullest. Their story provides poignant themes for character education and anti-bullying initiatives and promotes diversity, acceptance of others and individual expression.
"Ducks learn to value and honor the individuality of all ... a wonderful book ... sure to delight children and adults alike."
- National Kindergarten Alliance (
Read the complete review
)
Bullying remains a serious problem in our schools.*
"We must dispel the myth that bullying is just a harmless rite of passage or an inevitable part of growing up. It's not. We can take steps-all of us-to help prevent bullying and create a climate in our schools in which all of our children can feel safe ... [and] feel like they belong."
- President Barack Obama
3.2 million students are bullied each year.
71% of students report bullying at their school.
90% of students in grades 4-8 report being victims of bullying.
Bullying accounts for 160,000 absences every day. That's more than three million students a month.
Bullying is a major factor in school dropouts (1 in every 10).
Bullying tends to peak in middle school, making it the worst period for victims of bullying.
Suicide is the third leading cause of death in young people. Bullying victims are 2 to 9 times more likely to attempt suicide.
20% of kids that are cyber bullied contemplate suicide.

*Statistics taken from: teachsafeschools.org, cdc.org, nea.org, dosomething.org, makebeatsnotbeatdowns.org, nobullying.com.
Presentation Based on Imagine You Could
Encourage creativity with Imagine You Could/Imagínate si pudieras.
Creativity abounds as children journey through a world of magic and whimsy. No cell phones or electronics in this story-just wonderful adventures created from the dreams and imaginings of children. Great imaginers from throughout history are featured in the after-story presentation.
"Richly illustrated, Imagine You Could/Imagínate si pudieras is a delightful bilingual invitation to wonder, suitable for both interactive read-aloud and independent reading. I am ready to fly out that window with the cat!"
- Sister Mary Paul McCaughey, Superintendent, Chicago Catholic Schools
Children benefit most from creative and imaginative learning.
"Play allows children to use their creativity while developing their imagination, dexterity, and physical, cognitive and emotional strength. ... [It helps] them to learn how to work in groups, to share, to negotiate, to resolve conflicts, and to learn self-advocacy skills."
- American Academy of Pediatrics (AAP)
"Play is often talked about as if it were a relief from serious learning. But, for children, play
is
serious learning. Play is really the work of childhood."
- Fred Rogers,
Mister Rogers' Neighborhood
"Imaginative play and role-playing are particularly powerful kinds of play that help the brain develop in more functional and positive ways. Children who engage in these kinds of play have a more sophisticated level of interaction with others and with their environment."
- Justin Coulson, PhD,
The Power of Play to Boost Children's Development

Elaine Harrison's author presentations are fantastic! Six months after her last visit, the students were still talking about Elaine and performing the rap of her new superhero, Apostrophe Man. What a clever way to teach contractions! ... Elaine made this day one of the year's best for our children!
Mary Ellyn Billmeyer, Principal, Streamwood, IL
Without exception, all of our teachers expressed high praise for Elaine's presentations. Our students-regardless of grade level-were engaged and committed. We were grateful to have Elaine at our school for the second time and look forward to having her return with her next book!
Mary Brinkman, Assistant Principal, Palatine, IL
I encourage schools to invite Elaine Harrison for a visit. She is a wonderful author and outstanding presenter. The children are awed by her dynamic presentations. Ducks in a Row is a great resource for anti-bullying campaigns. Imagine You Could inspires children to explore and dream-to imagine the possibilities.
Janet Erazmus, Principal, Chicago, IL
Our students were delighted to visit with a real author!
Kate O'Brien, Principal, Chicago, IL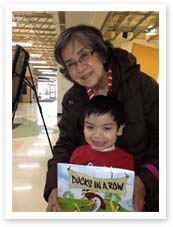 It's always a great time to schedule an author visit!
Schedule an author visit during your school's book fair, or ...
Jan 29-Feb 4, 2017:
National Catholic Schools Week
March 2, 2017:
Read Across America Day**
April, 2017:
School Library Month*
April 2, 2017:
International Children's Book Day***
April 10-17, 2017:
National Library Week*
May 1-5, 2017:
National Charter Schools Week
May 1-7, 2017:
Children's Book Week****
November, 2017:
Picture Book Month*
November 13-17, 2017
American Education Week**
*American Library Association
**National Education Association
***International Board of Books for Young People
****Every Child a Reader