I remember my wonderful father William Harris with great fondness today. I'm also pleased to honor the memory of Gordon Inskeep with a reflection from his daughter Ann.
Of course, little ones make this holiday so much fun and I'm happy to include photos and sentiments from Peter, Lucy and Brigette, along with a clever piece of Father's Day art from my friend Julie.
On this Fine Day!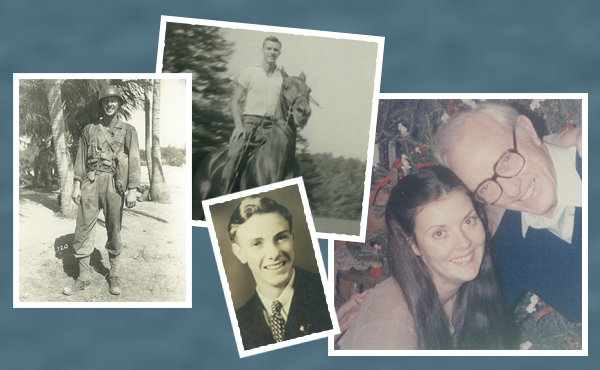 Clockwise: Dad in the Army, 1943; My Dad the Horse Whisperer; Me and Dad, Christmas 1980; Dad at 16, an Eagle Scout
I am very proud of who my father was in the world. His professional achievements were many and could fill a half a dozen blog posts - and then some. He had a keen mind for business and was a brilliant and dedicated educator. He was respected by his colleagues and revered by his students, many of whom he mentored well beyond their college years. "At his memorial service one former student after another stood before the congregation and said "If it hadn't have been for Dr. Harris ..."
But as I remember my father today, I think more about the man who was known to his inner circle of family and friends as one with an innate appreciation for the simple things in life.
My father instilled in me a deep gratitude for the beauty of the earth - the majesty of the sun as it rises and sets, the gift of a million stars in a moonless sky, and the importance of always taking time to go out and "Look at that full moon!"
Dad was an avid outdoorsman who could identify all the birds of the sky by both sight and sound. Among my treasures is the Eagle Scout pin he earned as a youth in Georgia. An accomplished equestrian, Dad passed his love of horses along to me, teaching me to ride both English and Western styles. What lovely memories I have of times spent happily galloping through the desert around Hole in the Rock in the Papago Park area of Phoenix, Arizona.
Dad was also an extraordinary rock hound. His massive collection of rocks and minerals, geodes and fossils from his lifelong adventures around the world are placed throughout my home. They are a sweet reminder to me of the guy who sought out beauty in the world-and always found it.
My father was truly one of the most optimistic, enthusiastic and good-natured people I've ever known. The best way to sum up what my dad was all about is to tell you how he greeted people. In his deep voice and charming Southern accent, I can still hear him say: "And how are you on this fine day?!"
Remembering Gordon Inskeep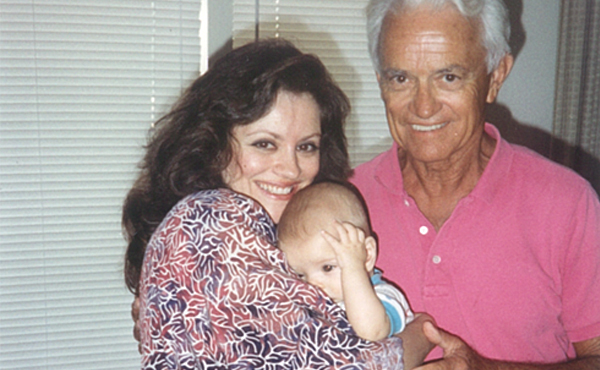 Ann and Gordon with his first grandson
My dad was a straight arrow, a Midwestern Eagle Scout and a smart student who skipped grades and aimed high, and expected everyone around him to do the same.
He raised my brother and me the way most fathers did in that generation - strict with his son, more of a softie with his daughter. He always let my mom do most of the talking, but that didn't mean he wasn't engaged by conversation. He loved young people and made my friends welcome in our home. His sense of humor ran to the slapstick: in the sixties, Red Skelton's comedy hour was never missed.
Professionally, he re-invented himself several times, evolving from engineering to journalism, from business to teaching - a life lesson for me.
But in an era when role models for girls were mostly mothers, nurses or teachers, my dad instilled in me the revolutionary concept that I could do anything with my life, and the confidence I needed to do it.
Through the course of his life, my dad was a traveller, a tennis player, and inveterate photographer. He was always the one documenting the gatherings of family and friends, and the events that marked our lives. But his greatest role was that of a loving husband and father.
He died in January, just shy of his 92nd birthday, after a long struggle with Alzheimers and a brief one with pneumonia. So this is my first Father's Day without him, and I miss the twinkle in his eye, the spring in his step, and the love in his heart.
Wonderful Worldly Dad
A short "official" bio is underneath this picture. I'm sure you'll agree: Julie's description of her Dad says it all!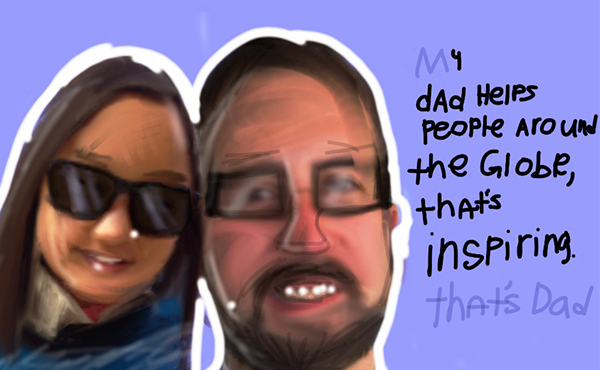 Julie and Marco Tavanti
Marco Tavanti, Ph.D. is an international sustainable development scholar and professor of international public service management at DePaul University in Chicago. He is editor in chief of the International Journal of Sustainable Human Security and author of more than 30 articles in the fields of international development, ethical leadership andresponsible management. Dr. Tavanti is president of the Sustainable Capacity International Institute (SCII).
This Dad's a Good Sport!
"Our dad is the greatest because he is loving and caring. He takes us to a lot of sports games."
Love, Brigette, Lucy and Peter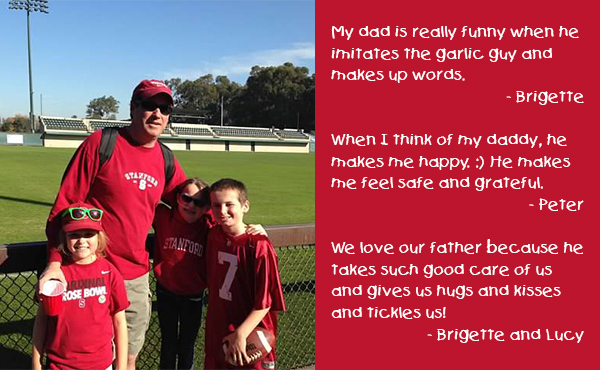 John Maloney and his wonderful kids
Word Scramble
htsi ienf yda
Hint: and how are you on ...