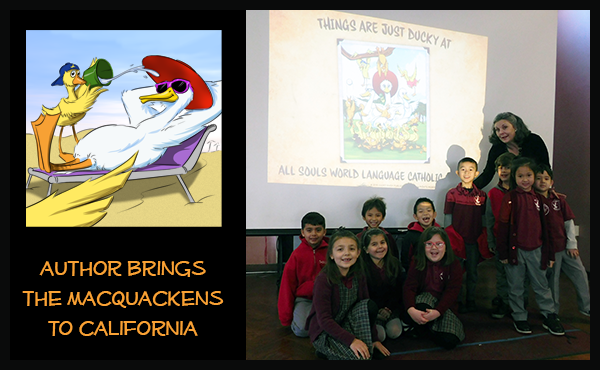 This past January, I had the great pleasure of visiting two exceptional schools in the Los Angeles area. All Souls World Language Catholic School in Alhambra and St. Sebastian Catholic School in Los Angeles are among 19 schools in 11 states to have implemented the Two Way Immersion Network for Catholic Schools, TWIN-CS. This language immersion initiative was created by The Roche Center for Catholic Education in the Lynch School of Education at Boston College. In her 2013 news article about the launch of the TWIN-CS initiative, education reporter Rebecca Delaney does a great job of explaining the design and goals of this innovative program:
"... Considered one of the more rigorous and effective approaches to language learning, two-way immersion integrates equal numbers of native English speakers and native speakers of a partner language in classrooms where they are all instructed in both languages. The goal of two-way immersion is not to encourage non-English-speaking students to "replace" their native language with English but to help every enrolled student become fluent and literate in both English and the target language (typically Spanish).
According to Patricia Weitzel-O'Neill, director of the Roche Center, students in TWIN-CS will become not only bilingual but also biliterate and bicultural—preparing them to become culturally sensitive and effective leaders in a multicultural workplace ..."
Read full article: http://www.bc.edu/schools/lsoe/about/colloquia/fall-2013/immersion.html.
For further information, visit the TWIN-CS website: http://www.twin-cs.org.
While the majority (about 93%) of TWIN schools are Spanish/English Immersion, All Souls School also has an English/Mandarin program, which sets a national precedent. Principal Carrie Fuller eloquently speaks about her extraordinary school, where three languages are spoken and many cultures are honored: "All Souls is a place of bridge builders and peacemakers because, when children learn a new language, they are challenged to think outside the box, to empathize with others, and to collaborate. In a world that can be divided by religion, race, and language, this gives me great hope."
The minute you hear the children confidently speak and sing in Mandarin or Spanish, or see a group of parents spending hours organizing a cultural festival, you will know that All Souls is a very special place. We celebrate the uniqueness of every child and their journey in this beautifully diverse, multicultural world."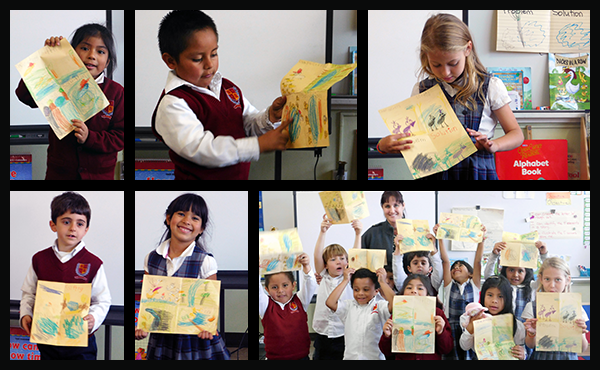 I had a wonderful day with the outstanding students and faculty of All Souls School in Alhambra. I equally enjoyed my time with the inspired teachers and happy students at their TWIN-CS sister school, St. Sebastian School, in west Los Angeles. The energy and creativity at St. Sebastian School is incredible! After my story presentations, Pre-K through 8, I was invited to visit Ms. Heidi Altenberg's kindergarten class. Ms. Altenberg's students proudly showed off their projects based on my book, Ducks in a Row. They each depicted four scenes featuring: characters, setting, problem and solution. I loved their artistry and the clever ways they depicted the story of the MacQuacken family. KUDOS and muchas gracias to Ms. Altenberg and her students; what a clever group of ducks!
As the school year ends, I send my warmest wishes and sincere thanks to the faculty and students of All Souls World Language Catholic School and St. Sebastian Catholic School. May your summer be filled with good books, great imaginings and fantastic new adventures!