I hope your Memorial Day weekend was filled with family, friends, food, fun and frolic!
I had a wonderful vacation with my long-time friends Ann and Thom Serafin. Mary Kay and Jimie Wheeler rounded out the fab five for a fun-filled weekend at the Michigan shore.
On last Friday's Facebook post, I gave a shout out to #ThomSerafin as a grill meister extraordinaire, a guy who really has his #ducksinarow when it comes to the art of the barbeque. Thom's prowess at the grill continued this weekend as he produced a wonderful array of barbequed treats, including the best grilled asparagus ever!
As a public figure, #ThomSerafin is well known as a powerful public affairs strategist and insightful political communications analyst. While Thom's public honors are many, those in his inner circle of family and friends, including the #MacQuackens, honor him as a gracious host, supportive advocate and friend, and one of the funniest guys you'll ever meet. I first became acquainted with Thom when he had the good fortune to meet and then marry my dear friend Ann.
Ann Serafin and I have been sharing our lives with each other for 47 years. I'd like to say we met as toddlers, but we were just a little bit past that when our paths first crossed.
There's no friend like an old friend …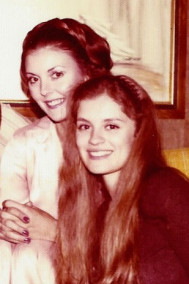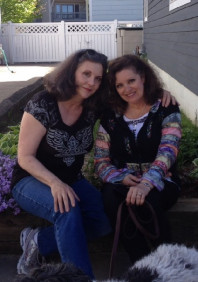 (Arizona - circa 1974) (Michigan - May 23, 2014)
Former U.S Supreme Court Justice Oliver Wendell Holmes is credited for this familiar line, which reads in entirety: "There is no friend like an old friend who has shared our morning days, no greeting like his welcome, no homage like his praise." – Oliver Wendell Holmes, Jr.
Ann and I have accompanied each other through the trials and joys of our lives for nearly five decades. I think the world of this lovely and multi-talented woman, whose generous spirit seems inexhaustible. A familiarity and comfort exists between us, one that comes from shared life experiences and the gift of time. This weekend, we created new memories on our excellent Michigan adventure.
More Old Friends
#ThomSerafin and Jimie Wheeler's connection began in 1983 when they met while working on U.S. Senator Alan J. Dixon's campaign. Ann and Thom have enjoyed the friendship of the Wheelers as a
couple for 25 years. They've been there for each other through life's challenges and successes and have watched each other's children grow to be stellar adults.
I have spent time with Mary Kay and Jimie sporadically since 1999 but never on vacation. They are so much fun as a couple and positively hilarious as individuals. The Wheeler's beautiful, dynamo of a daughter, Lizzie, along with her handsome and completely charming fiancé Steve (they're getting married in December of this year!) joined us for an evening, adding a whole new dimension of fun to the festivities. What a great family!
Perfection!
Our weather was just perfect! When we weren't enjoying retail therapy or soaking up rays on a pristine beach, our cottage was filled with music, great food and bountiful laughter- the hold your stomach, "I can hardly breathe" kind. And, it will not surprise those who know Thom Serafin and Jimie Wheeler that there was even an occasional political "discussion."
The familiarity and loyalty of long-time friendships is one of life's great treasures. What a gift it was to spend this holiday weekend with the Serafins and Wheelers, as we reminisced about the past, shared our dreams for the future and immersed ourselves in the delights of the present.
"I count myself in nothing else so happy as in a soul remembering my good friends." William Shakespeare (from Richard II)
Remember YOUR good friends by posting your
then and now photos
on the
Lucky Duck Facebook page
! And, don't forget to tell us how long you've known them!
The #MacQuackens encourage you to enjoy a conversation with your children about how they feel about their friends!
Word Scramble
Ask your little one to help with this week's word scramble:
phisfdiner
Hint: treasure