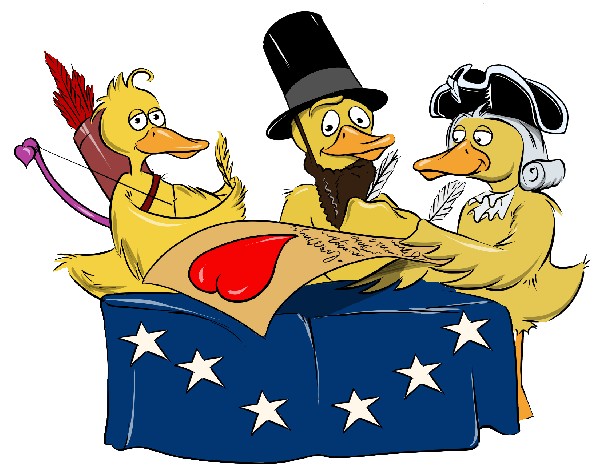 In February, we asked: What do you think is happening in this picture? You sent us your stories and they were QUACKSOLUTILLY® wonderful! Special thanks to Ms. Turek and Ms. Buscemi and congratulations to their 2nd Grade Class at St. Mary Elementary School in Riverside, Illinois. Special thanks, also, to Ms. Ehrin Krueger and her 3rd and 4th Grade Challengers from St. Louise de Marillac School in LaGrange Park, Illinois. Here are our favorite stories!
St. Mary Elementary School
Lizzie S.

Three ducks are coming,
They are doing a good job of humming.
George is walking,
Abe is talking,
Cupid's just walking about
Shootin' all his arrows out.
George has a wig,
Abe loves to jig
Cupid wants to cry,
George shouts "why?!"
Cupid wants a bow,
Lincoln wants a hoe.
Samuel A.
Cupid, Washington, and Lincoln,
Writing with good penmanship.
Cupid with his arrows.
Abe with his beard,
George with his fake curly white wig.
Oh no, February is over!
Now we're just in costumes!
Francesca U.
One normal day ducks were alive. One baby duck turned out to be Cupid and made everybody fall in love. Two other ducks turned out to be presidents. Their names were Abe Lincoln and George Washington. Cupid shot them both with love arrows and they ran to the White House.
Nina A.
One day a little duck said, "It is February! President's Day and Valentine's Day are near!" He told two more ducks. "Presidents Day! said one duck. "Valentines Day! said the other duck. Lets do an act!" They all gathered and put on a play. At the end … everybody quacked!
Special Recognition:
Alex J.
Stevie G.
Aszher L.
Owen B.
Rose W.
Mayan C.
St. Louise de Marillac School
Thomas D.
I think they are making a holiday when you share your feelings and gifts with each other and are nice to the world!
Mary H.
Cupid is telling George Washington and Abraham Lincoln the story of Valentines Day. The presidents are writing down their own twist because they already know about Valentine's Day! It was so special they put it in as an amendment! They even put a heart on it to remember!
Michael F.
Cupid, Abe Lincoln and George Washington got together to write the Constitution. It said, ''We are not going to fight or argue. We are all going to be friends and that's that!'' Cupid said, ''What about a heart?'' So, they drew a heart and put their names on it.
Alexa
I think they're having a meeting and writing the constitution. They are also telling one another about their amazing lives and not fighting with each other. "It's going to be a really, really good Valentine's Day!" said Cupid. George Washington and Abraham Lincoln agreed!

Special Recognition:
Luca
Katie K.
Julia T.
Samantha H
Robert
Ana L.
Brian P.
Dominic K.
Matt F.
Ethan K.W.
Dean
Jannelle S.