The Beatles weren't the only Brits to invade the United States in 1964. With umbrella in hand, a charming British nanny named Mary Poppins flew into our hearts that year, bringing with her a world filled with magic and whimsy.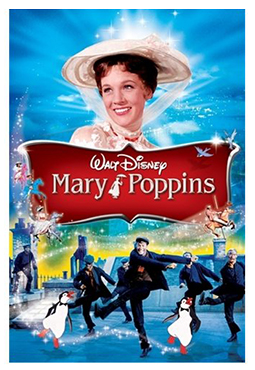 As the 50th anniversary of the release of Mary Poppins approaches next month, I recall the wonder of this lavish, altogether charming 139-minute musical fantasy as if it were yesterday. I loved every bit of it: Bert and his one-man band, those lively chimney sweeps dancing over the rooftops of London, Uncle Albert and his irrepressible laugh and Mary with her sweet RX, which could make any task "a snap!"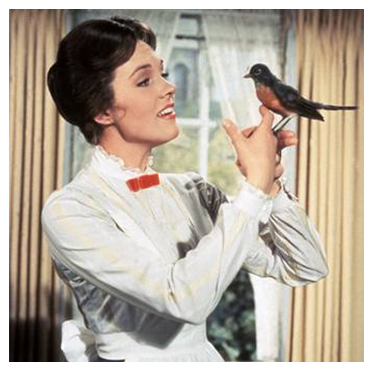 I love the brilliant score of Mary Poppins. As for those wonderful songs, even though I was studying classical piano at the time, my dear piano teacher, Dr. Arnold Bullock, was all for adding some whimsy to my repertoire. Along with Mozart and Beethoven, he helped me learn the entire Mary Poppins score. Yesterday, I sat down at the keyboard and actually remembered how to play
Chim Chim Cheree!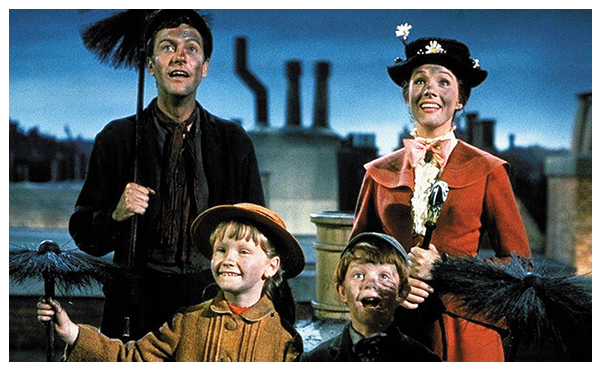 Practically Perfect, in Every Way!
Hollywood agreed and gave Mary Poppins 13 Academy Award nominations, the most in the history of Disney feature films. It won five, including Julie Andrews for Best Actress in a leading role. The film also took Oscars for Best Film Editing, Best Visual Effects and—of course—Best Musical Score and Best Song (
Chim Chim Cheree
) for the dynamic composing team of brothers Richard and Robert Sherman.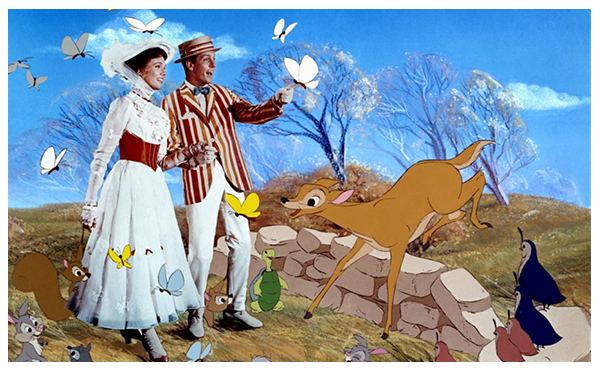 Supercalifragilisticexpialidocious!
I asked some of my contemporaries for their memories of Mary Poppins. Katie Chambers, said:
"How could you not fall in love with Mary Poppins?! She made everything better with a spoonful of sugar! The most wonderful music, and who can forget
Supercalifragilisticexpialidocious!"
And, from Colleen Kirchner: "I LOVED Mary Poppins! I wanted her to come and live at my house! Mary Poppins was pretty, smart and sweet but didn't allow any shenanigans—and had just the right amount of sugar to make the medicine go down. With the voice of an angel she could solve a problem, dispense advice and bestow kindness. For that matter, I'd
still
like her to come and live at my house!" Wouldn't we all?!
I'll leave you with
The Making of Mary Poppins,
which was produced for the 40
th
Anniversary of the film's release. It's
a great behind-the-scenes look at how this magical extravaganza came to be. I'm also including trivia and links to some of my favorite musical numbers. Have fun sharing them with your children!
Please comment below with your own memories of Mary Poppins and how you've shared this classic with your kids.
The Making of Mary Poppins
Trivia
In 1964 (a leap year) the average cost of a movie ticket was 93 cents. A popcorn and drink would set you back 20 cents.
Walt Disney's daughter, Diane, suggested to her dad that her favorite storybook, Mary Poppins, would make a good movie. Disney first approached author P.L. Travers by letter in 1938 with the idea, but she flatly refused him. Numerous other pitches throughout the years would be refused until 1959, when Disney traveled to England to meet with Travers. The famous Disney charm won her over and the film was released in 1964. Travers did not like the film. Go figure!
The first use of animatronics in any film was the robin that whistles a duet with Julie Andrews in Mary Poppins. Andrews had wires going up her dress to move the bird. The bird's movements were so realistic; critics were baffled as to how it was animated. And, Andrews even provided the whistling for the Robin!
Lyricist Robert B. Sherman got the idea for A Spoonful of Sugar when his daughter came home one day and reported that she had received a vaccine not by shot, but in a sugar cube.
The song, Let's Go Fly a Kite was inspired by the Sherman brothers' father, Al Sherman, whose weekend hobby was making kites for the neighborhood kids. By the way, the score of Mary Poppins took two and a half years to complete.
At Disney World, in the lost and found on Main Street, you'll see a wooden leg with the name "Smith" on it. This is a reference to the joke from the I Love to Laugh scene with Bert and Uncle Albert: "Once I met a man with a wooden leg named Smith." "What was the name of his other leg?"

Word Scramble
Graus oonlfusp fo
Hint: What makes the medicine go down?