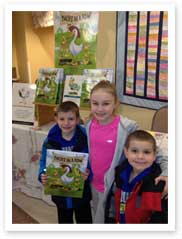 Elaine Harrison and the MacQuacken Family had a very ducky time as they flew all around Chicagoland celebrating Catholic Schools Week!
With dynamic and colorful book images projected onto the big screen, Elaine offered a lively and dramatic recitation of Ducks in a Row at the schools. She further delighted students by showing them the illustration process-from initial sketches to finished works, played vocabulary and math games, and even took the audiences to favorite MacQuacken vacation spots, including the Statue of Liberty and the Art Institute of Chicago.
Schools visited included:
St. Emily School in Mt. Prospect
St. Juliana School in Chicago
Queen of Martyrs School in Chicago
St. Thomas of Villanova in Palatine
St. John the Evangelist in Streamwood
"We thank Elaine for her talents, vision and passion for writing, which made a memorable and wonderful day for everyone at St. Thomas."
– John LaRoche, Principal